Do you want to start a WordPress blog the right way? We know that starting a blog can be a terrifying thought specially when you are not geeky. Guess what – you are not alone. We have helped a lot of people create a successful blog, we have decided to create the most comprehensive guide on how to start a WordPress blog without any technical knowledge.
What do you need to start a WordPress blog?
There are three things you need to create a WordPress blog:
A domain name idea (this will be the name of your blog i.e likeweb.net)
A web hosting account (this is where your website live on the internet)
Your undivided attention for 30 minutes.
Yes, you read it right. You can start a blog from scratch in less than 30 minutes, and we will walk you through the whole process, step by step.
In this tutorial, we will cover:
How to Register a Domain Name for Free

How to Choose the Best Web Hosting

How to Install and Setup WordPress Blog

How to Change Your Blog Design Template

How to Write Your First Blog Post

How to Customize WordPress Blog with Plugins

How to Add a Contact Form

How to Setup Google Analytics Tracking

How to Optimize Your Website for SEO

How to Make Money From Your Blog

Resources to Learn and Master WordPress.
Domain name: Your domain name is your blog's address on the internet, like Google.com or likeweb.net . It's what your customers type in their browsers to access your website. A domain name normally costs around $14.99 per year, but we'll show you how to get one for free later in this article.
Web hosting: Your web hosting account is where your blog's content and files are stored. Think of it as your website's house. When a visitor tries to access your blog by typing your web address (domain name), they'll be directed to the website files stored in your web hosting server. Web hosting typically costs $7.99 per month.
Do you want to start a blog or a new online business in 2022? If you do, then you'll need to register a domain name.
The first step towards building a website is to find a good domain name and register it. In this article, we will show you how to register a domain name, step by step. We will also share a tip on how you can register a domain name for free.
A new domain name typically costs around $14.99 / year, and web hosting plans normally costs $7.99 / month.
That's a lot of money for beginners who are just starting out.
Thankfully, Bluehost, an official WordPress recommended hosting provider, has agreed to offer our users a free domain name and over 60% off on web hosting.
1. How to Register a Domain Name for Free
If you want to register a domain name to start a blog or make a website, then this is the best option for you.
Normally, a domain name costs $14.99 / year and website hosting plans start from $7.99 / month. This is a lot of money if you are just starting out.
Luckily, Bluehost has agreed to offer our users a free domain name, SSL Certificate, and 60% discount on web hosting.
Basically, you can pay $2.75 per month for web hosting, and you will get a domain name for free, so you can start your website without a lot of money.
Bluehost is one of the biggest web hosting companies in the world. They are in business since 2003 and host more than 2 million websites. Not to mention, they're officially recommended by WordPress.
To get started, you need to visit the Bluehost website and click on the Get Started button.
This will bring you to the pricing page. Their Basic and Plus plans are popular among our users.
Click on the 'Select' button below a plan to continue.
On the next page, you will be asked to choose a domain name. Simply type the domain name in the "New Domain" box because that will get you a free domain name.
After that, you will be asked to enter the domain name for your website.
Next , you will need to add your account information and finalize the package info to complete the process. We recommend going with the 36-month plan because that's the best value. It lets you extend the first-year savings to 3 years.
If the domain name you entered is available, you will be taken to the registration page. From here, you need to enter your account information like name, address, email, etc.
Below the account information, you will notice some hosting extras. We don't recommend buying them, so you can safely uncheck them for now. If you feel that you need them, then you can always add them later.
After that, you can enter your payment information to finish the purchase.
Once completed, you will receive an email with details on how to login to your web hosting control panel (cPanel). This is where you manage everything from support, emails, among other things. But most importantly, this is where you install WordPress.
Since you need both a domain name and web hosting to start any type of website, it makes a lot of sense to purchase them together, so you can get the domain name for free.
If for some reason you don't want to use Bluehost to get a free domain name, then you can use HostGator, Dreamhost, GreenGeeks or InMotion Hosting. All of these companies are also offering our readers a free domain name with web hosting.
How to Install and Setup WordPress Blog
Step 1. Setup
When it comes to building websites, you are spoilt for choice. From free blogging platforms such as Blogger and WordPress (that's WordPress.com) to paid platforms such as Squarespace, Wix, Weebly, Webflow, Shopify (for online stores), and many more, you have a lot of options to choose from.
Considering you've landed on this article, we're guessing you already have a clue as to which is our preferred website builder. That's right, WordPress it is!
What makes WordPress so popular?
Is it because
WordPress is easy to install and allows you to get online quickly?
WordPress is open source and free to use?
WordPress can be customized and used just the way you want?
WordPress is flexible, and you can create any website, from a personal blog, a corporate website, a portfolio, a news website, or even an online community?
WordPress gives your complete control over data, content, and the entire website?
Well, it's all the above and so much more!
In this article, we're going to walk you through the various methods to install WordPress. Whether you're a beginner or an advanced user, this article will serve as a guide to help you install WordPress.
Step 2. Install WordPress
Bluehost is an officially recommended WordPress hosting provider and one of the largest hosting companies in the world. They know WordPress inside out and have the most beginner friendly WordPress installation process.

Bluehost automatically installs WordPress on your domain when you sign up for luehost using our link . Once you login to your Bluehost account, you'll find your WordPress site under 'My Sites' tab.
You can simply click on 'Log into WordPress' button, and it will take you directly to the WordPress admin area.
You can also login to WordPress by simply going to yoursite.com/wp-admin/ directly from your browser.
If you are using a different WordPress blog hosting service like SiteGround, HostGator, WP Engine, etc, then you can see our comprehensive guide on how to install WordPress for step by step instructions for those providers.
Once WordPress is setup, you're ready to customize your blog's appearance to make it your own and start blogging.
How to Change Your Blog Design Template
If you've installed a WordPress theme but it's not quite right for you, you may be feeling frustrated. There are plenty of options available to you for customizing your WordPress themes.
A theme controls what your WordPress site looks like. It includes the colors, fonts, layout structure, and the overall look and feel of the website.
Currently, WordPress.org has over 9,000 free themes to choose from.
You can change your theme by going to your WordPress dashboard and clicking on Appearance » Themes.
Go to your WordPress admin dashboard and navigate to the Apperance section.

You are on the page where the WordPress theme is listed. Click the Add New button to access the official theme directory.
Go ahead and click on the Add New button.
On the next screen, you will able to search from 9,100+ free WordPress themes that are available in the official WordPress.org themes directory. You can sort by popular, latest, featured, as well as other feature filters (i.e industry, layout, etc).
You can search for a new theme by clicking Feature Filter and sort through the themes by color scheme, layout, features, and much more.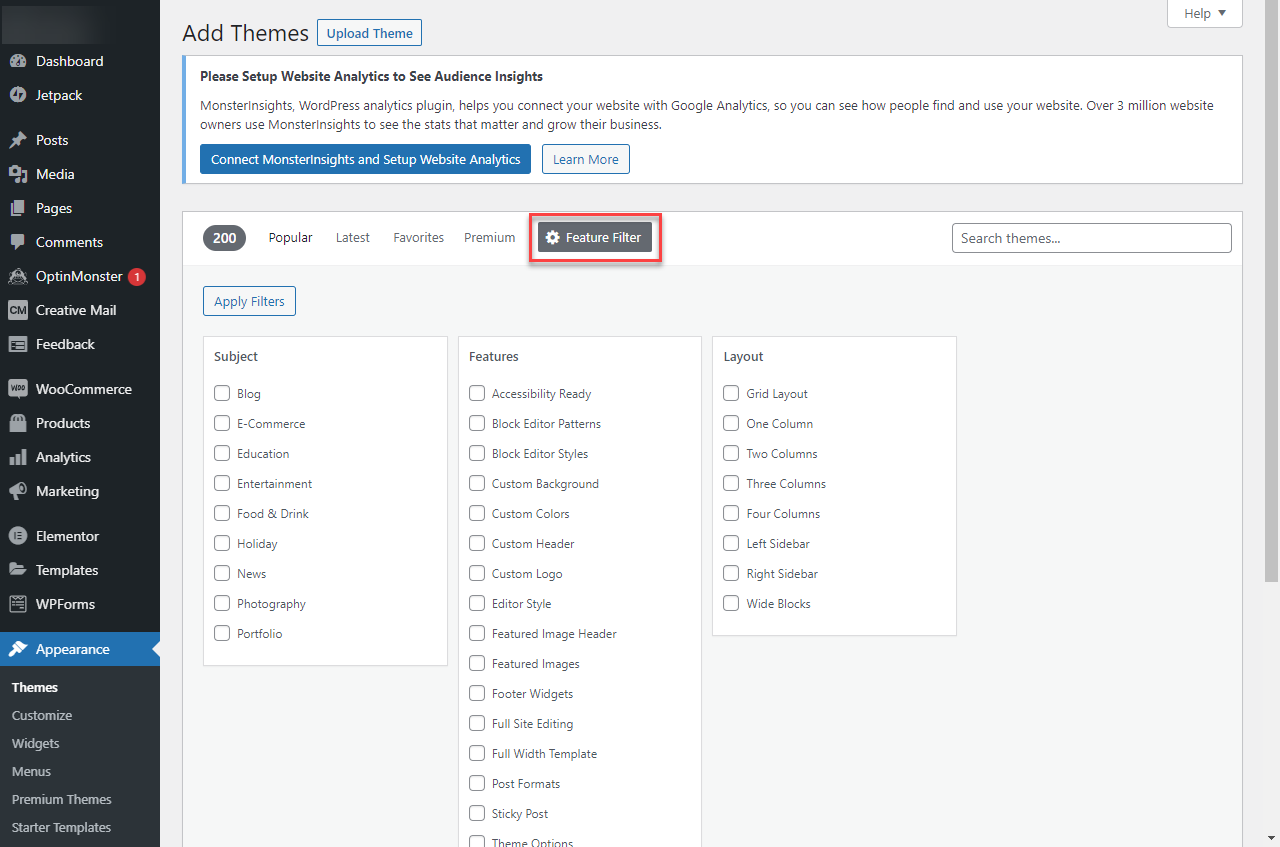 Ensure to click Apply Filters after sorting the Subject, Features, and Layout.
Once you choose a theme that you like, click the Install button that appears when you hover your mouse over the theme.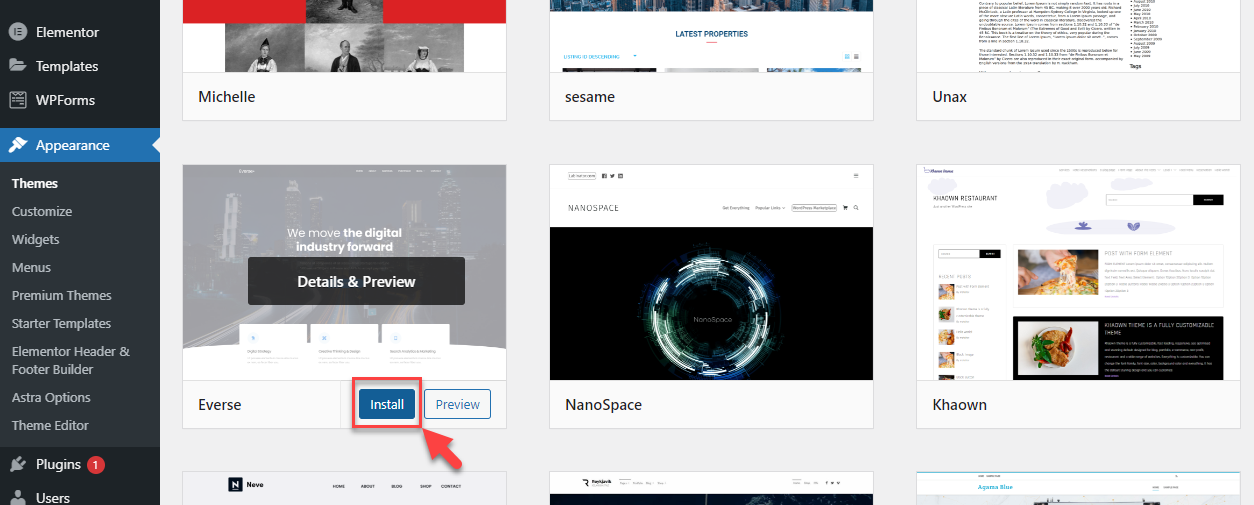 Now that the theme is installed, you can click Activate to make your site start using this theme immediately.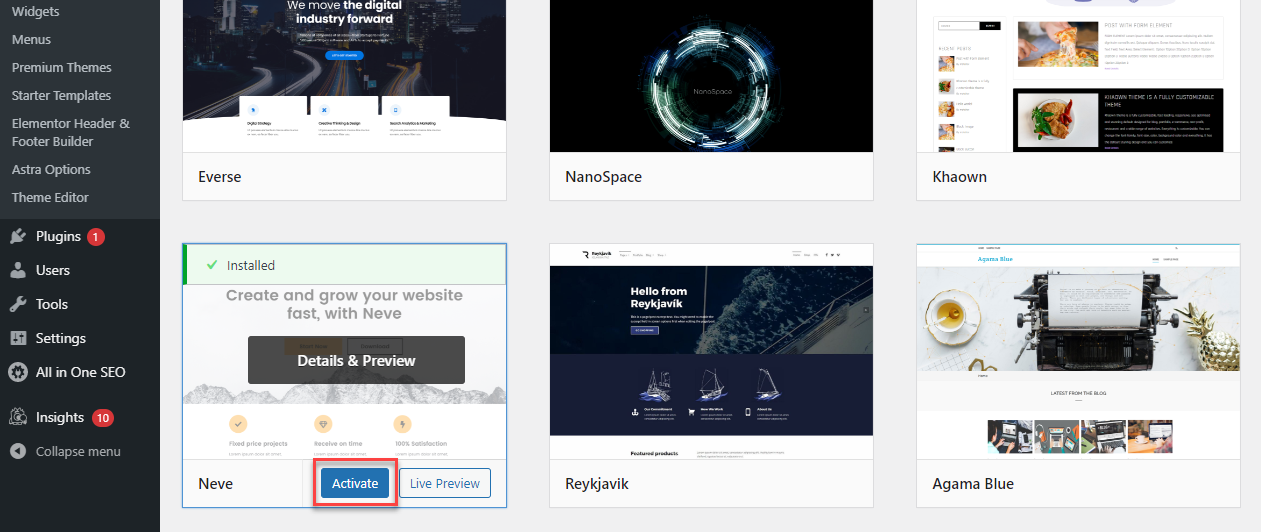 You can get even more design control with a WordPress page builder like SeedProd or Divi which let you create a custom header, footer, sidebar, and more without writing any HTML code.
These plugins give you more design control than what you get with Wix or Squarespace, while giving you the full freedom of the powerful WordPress content management system.
Once you have selected your WordPress theme, you are now ready to create your first blog post.
If you need help selecting a theme, then please refer to our guide on 9 things you should consider when selecting a perfect WordPress theme.
How to Write Your First Blog Post
Adding a blog to your website is a great way to keep your content fresh, share your opinions and knowledge, and increase visitor engagement. Best of all, you can update your blog on the go with Weebly's mobile apps.
Log into your WordPress Dashboard.
Go to Posts.
Select Add New.
Use the screen provided to create your post as desired.
Click Publish when you are done creating your post. The post will display on the blogging page of your website.
To utilize all the features on the posts screen, you should read our article on how to add a new post in WordPress .
It covers how to embed videos, add blog images, headings, table of content, sub-headers, bullet lists, call-to-action buttons, social media posts, and all other shortcuts you need.
Often beginners are confused between posts and pages menu in the WordPress dashboard. That's why we have also written a complete guide on the difference between posts vs pages in WordPress.
Nếu bạn cần trợ giúp để suy nghĩ về các ý tưởng bài đăng blog mới để viết, thì đây là một hướng dẫn tuyệt vời có 103 ý tưởng bài đăng trên blog mà bạn có thể viết ngay hôm nay.
Đây là một hướng dẫn khác về 73 loại chủ đề blog đã được chứng minh là có hiệu quả.
5.How to Customize WordPress Blog with Plugins
Once you have written your first sample blog post, you probably want to get started with adding other usual elements on your website such as contact forms, galleries, sliders, email list, forums, etc.
To add all these additional features, you need to use plugins.
WordPress plugins are apps that allow you to add new features to your website (without writing any code).
A backup plugin will give you peace of mind by automatically backing up your site every day. There are a ton of WordPress backup plugins on the market.
One of our top picks for backup plugins is WPForms Lite!
We have a step by step guide on how to install a WordPress plugin.
How to Create a Contact Form in WordPress
Every website needs a contact form. It allows your users to email you directly. Since WordPress doesn't come with a built-in contact form, you will need a WordPress form builder plugin to add a contact form on your site.
We recommend using the WPForms Lite plugin. It is a free version of the popular WPForms plugin, which is #1 in our list of best contact form plugins for WordPress.
Over 4 million websites use WPForms!
The first thing you'll need to do is install and activate the WPForms plugin. For more details, see this step by step guide on how to install a plugin in WordPress.
Once activated, you'll see the WPForms setup wizard display the option to take the WPForms Challenge.
Click Start the WPForms Challenge to get started.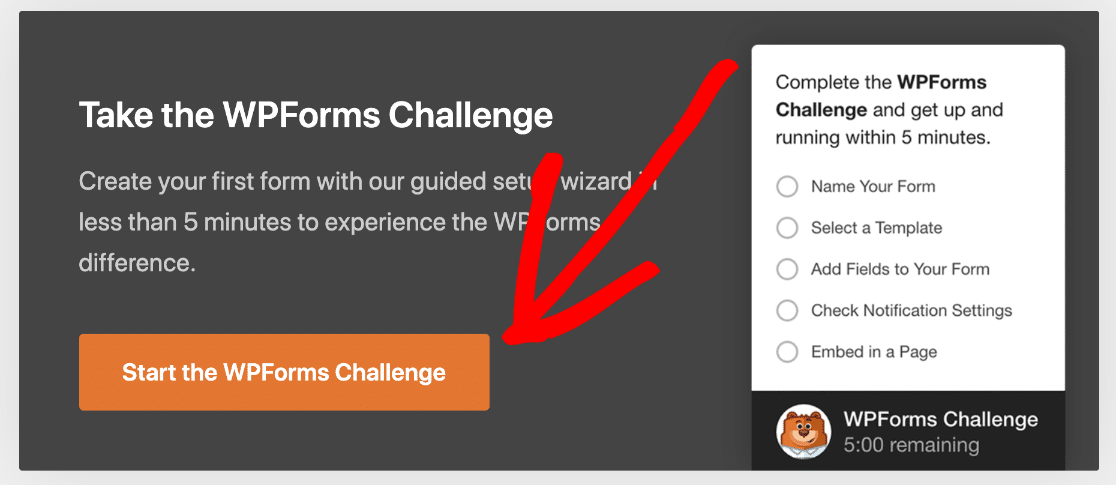 Step 1: Create Your First Form
After you click Start the WPForms Challenge, you'll be taken to the WPForms form builder. This is where you'll create your first form and configure all of its settings.
Click Let's Go to get started.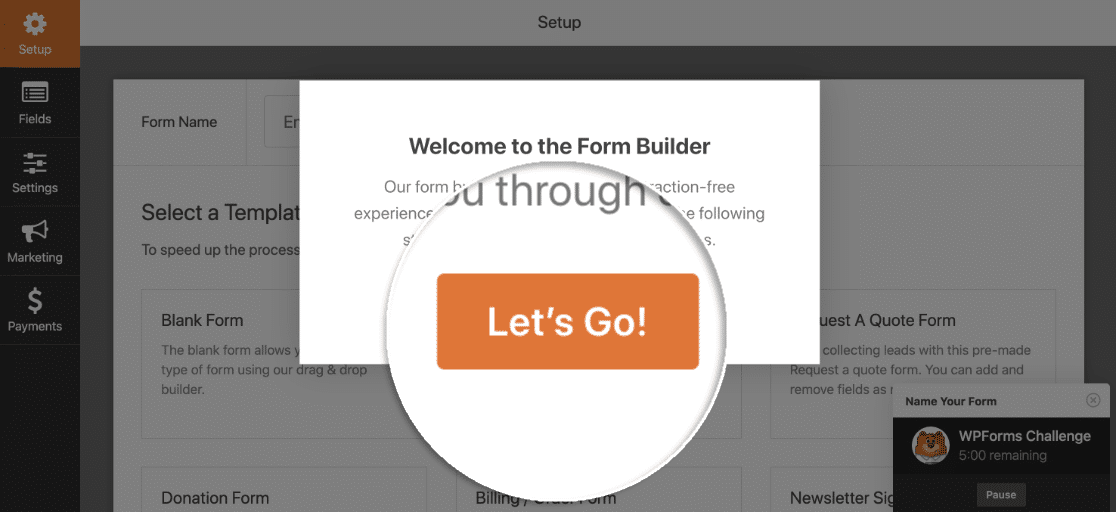 The first step in the challenge is to name your form. Type in a name here and click Done to move to the next step.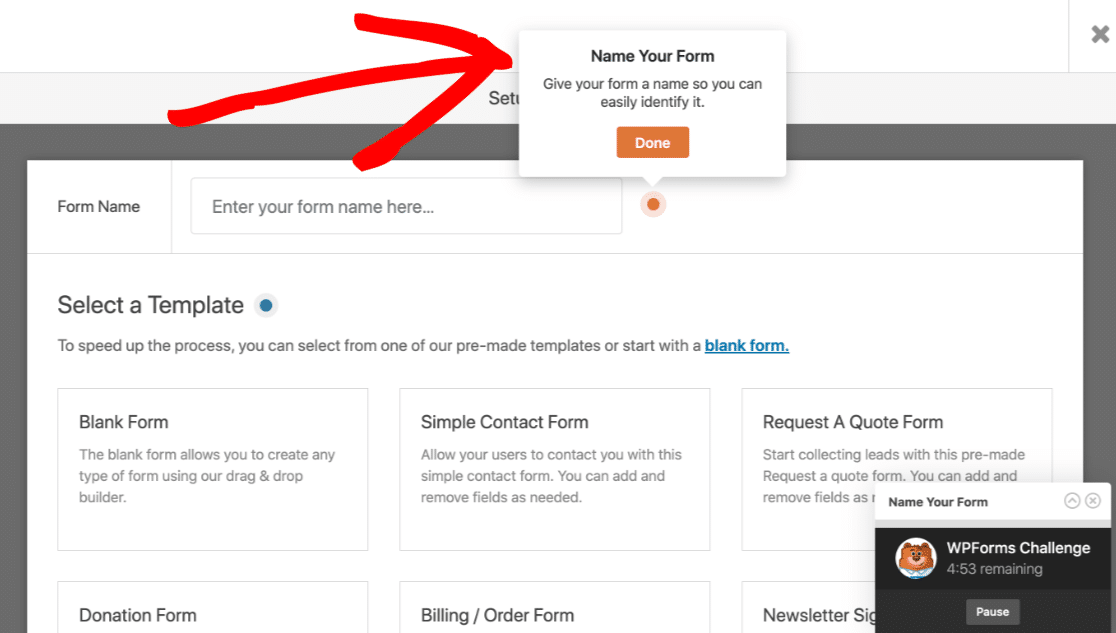 You'll see that the timer in the corner is counting down as we build the form.
Step 2: Customize Your Form Fields
Next, it's time to select a pre-designed template or use the blank template if you prefer to build your form from scratch. Since we're creating a contact form, we'll select the Simple Contact Form template.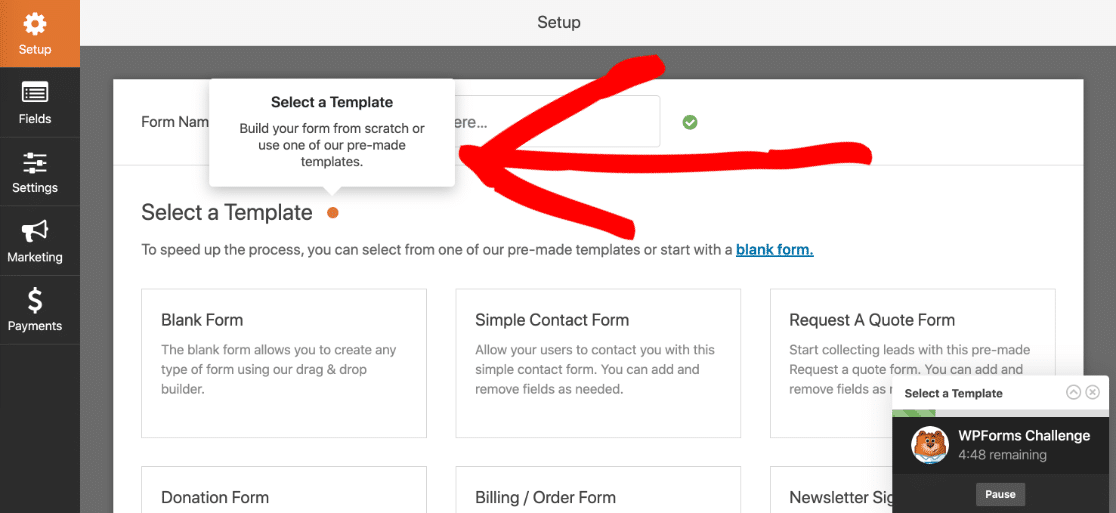 When you click on the template you want to use, you'll be taken to the part in the form builder that lets you add or remove form fields and customize the way they look and function.
The popup message here tells you what to do next: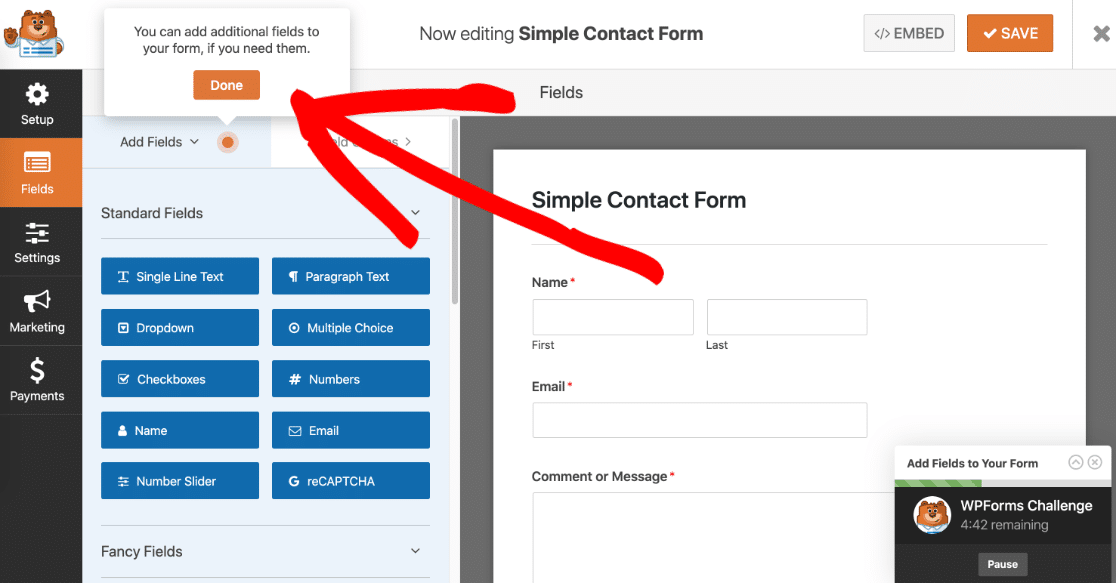 We strive to make form building as simple and beginner friendly as possible. All of our templates have the basic form fields you'll need without having to add or remove any fields.
That said, we also strive to pack WPForms with powerful features so you can extend your form building capabilities and customize your forms to meet your needs.
You can add additional fields to your contact form by dragging them from the left hand panel to the right hand panel.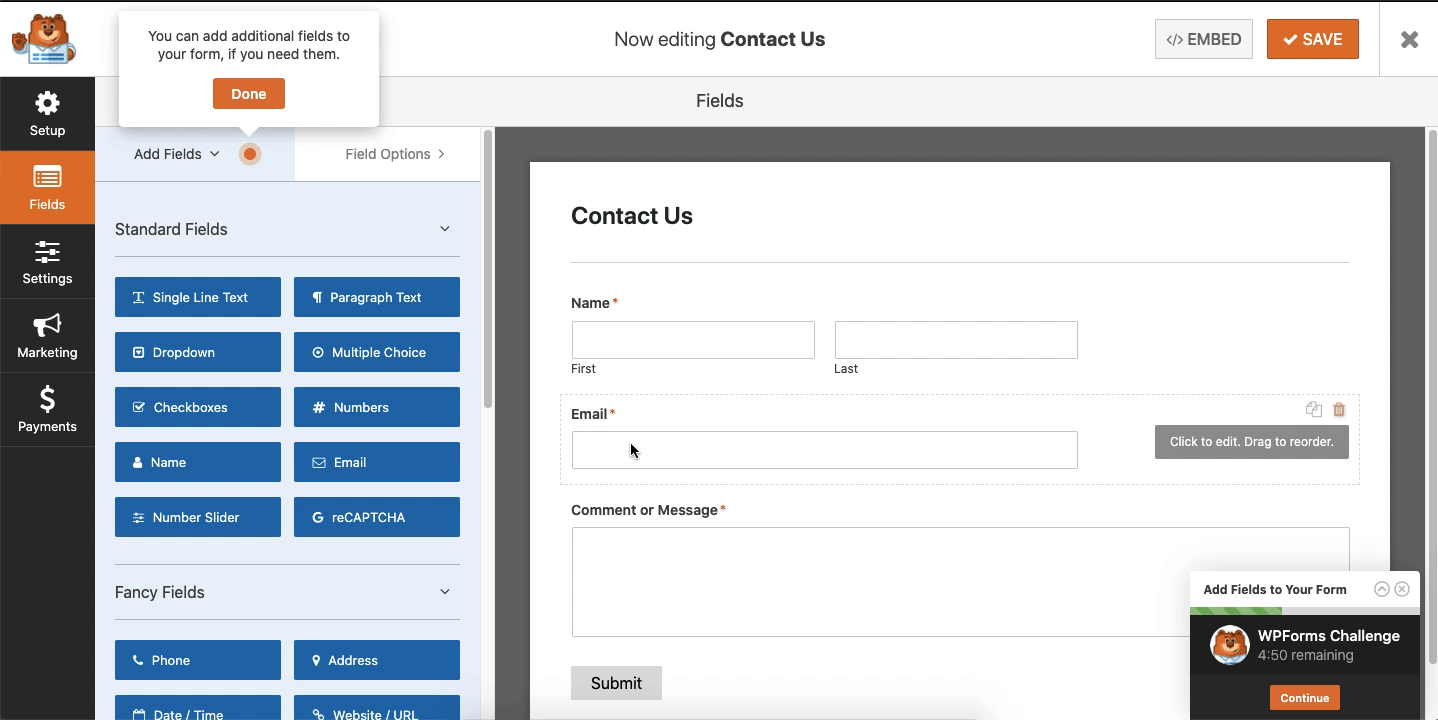 Then, click on the field to make any changes. You can also click on a form field and drag it to rearrange the order on your contact form.
Check out these contact us page examples to get some ideas for your own custom form.
Once you're finished customizing your form, click Done.
If you need more detailed instructions, check out our step-by-step guide on how to create a contact form in WordPress .
How to Connect Your Blog to Google Analytics With MonsterInsights
If you want to grow your blog traffic, then you need to understand how people are finding your blog and what they do once they're on your blog.
The easiest way to track user interaction on your site is using Google Analytics. Google Analytics is the best tracking solution for websites, and it's free to use.
The MonsterInsights plugin makes it easy for you to set up Google Analytics on your WordPress blog. Plus, it allows you to make use of the full potential of Google Analytics tracking, like file downloads tracking, ads tracking, form submissions tracking, eCommerce transactions tracking, etc. without having to touch a single line of code.
To set up Google Analytics on your blog, head over to Plugins » Add New. Search for MonsterInsights and, when the plugin shows up, click Install Now and then, activate.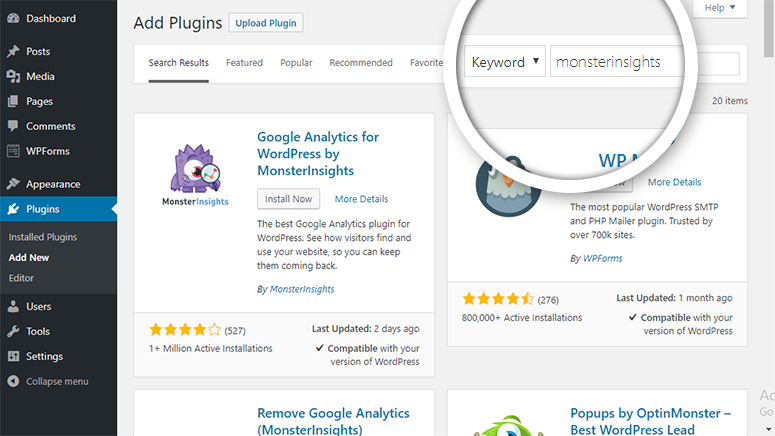 Head over to Insights » Settings to authenticate your blog with Google Analytics. Click Authenticate with your Google account.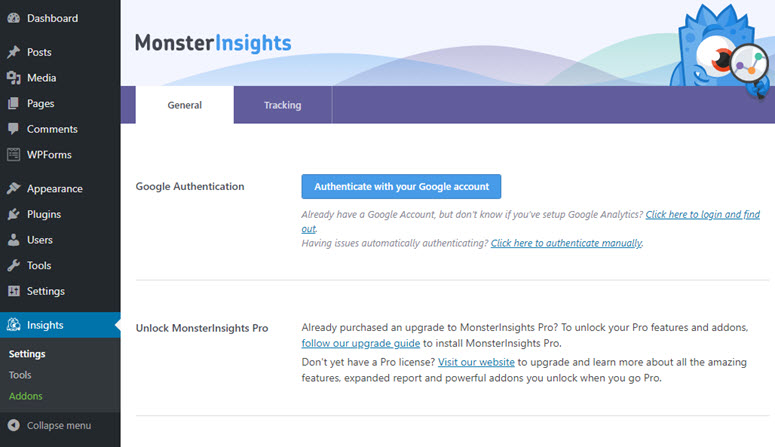 On the next screen, select your Google account.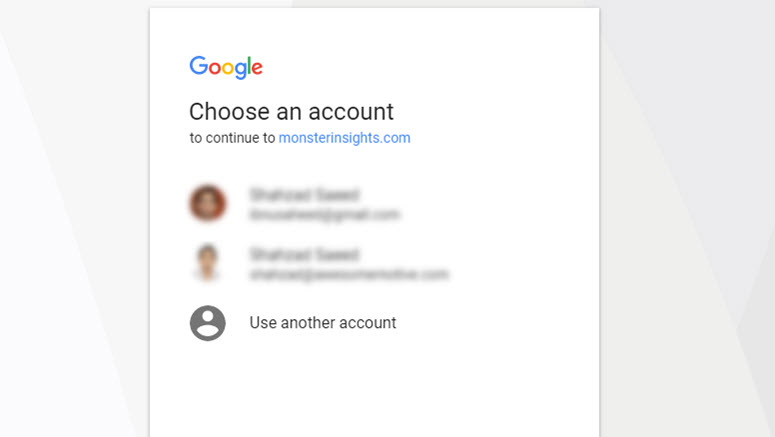 Next, allow MonsterInsights to manage your account.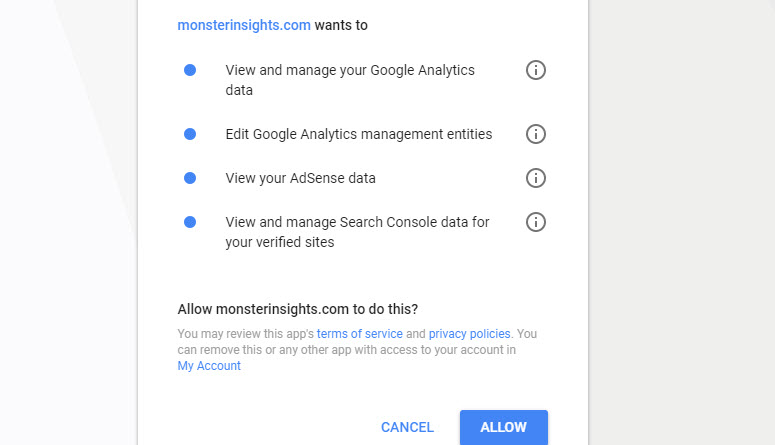 Finally, select the correct website profile for your blog and click Complete Authentication.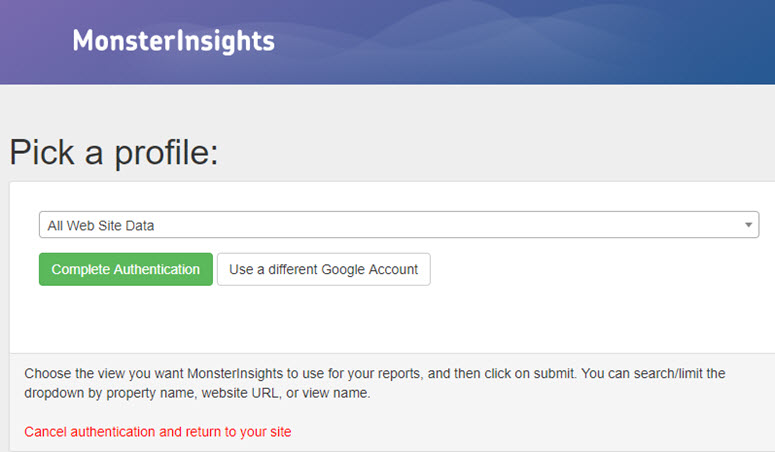 After authentication, you can easily find out how your website is doing by visiting Insights » Reports.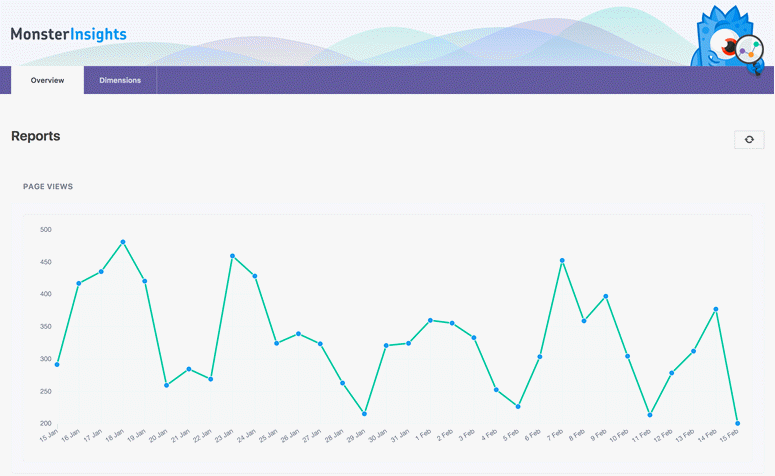 Get started with MonsterInsights today to easily set up Google Analytics on your site.
Want to start with the free version instead? Try MonsterInsights Lite.
How to Optimize Your WordPress Blog for SEO
According to OptinMonster, SEO is the practice of increasing your website traffic by getting your web pages to rank higher in search engine results. Visitors who arrive at your site via search engines are referred to as organic traffic.
Want to attract a targeted audience to your blog? The best way to attract targeted visitors is to drive more search engine traffic, also known as organic traffic, by improving your website's SEO.
At All in One SEO (AIOSEO), user experience is our #1 priority. From website SEO setup to ongoing SEO optimization, our team of SEO experts have created easy to follow SEO workflows that will help you outrank your competitors in search results. This is why many industry leaders award AIOSEO as the most beginner friendly WordPress SEO plugin that's both EASY and POWERFUL!
AIOSEO's WordPress SEO plugin features are highly optimized for Google and other popular search engine algorithm because we follow the most up to date SEO standards and SEO best practices. We can honestly say that AIOSEO is the best WordPress SEO plugin in the world.
Aside from a WordPress SEO plugin, you can further optimize your blog content by using a keyword research tool. These SEO tools help you come up with new content ideas that people are searching for around your topic.
We also recommend you to follow our complete step by step WordPress SEO guide to set up your blog's SEO.
6.Essential Plugins & Tutorials for Your WordPress Blog
When it comes to picking the right WordPress plugin for backups, there are three primary parameters that you should consider
Backup reliability,
offsite storage, and
Restorability.
We have listed the 10 best WordPress backup plugins based on these parameters and added our insights from the tests we undertook. We have covered the basic features, plans, what stands out, and the drawbacks of each of these plugins
Make a regular backup with Updraft Plus – Pro | Free
Build contact forms with WPForms – Pro | Free
Security – Sucuri Security is a free security scanner for WordPress. We have a complete step by step WordPress security guide for beginners that will help you secure your blog.
Improve your SEO with All in One SEO – Pro | Free
Connect your site with Google Analytics using MonsterInsights – Pro | Free
Reduce your website load times with W3 Total Cache – Pro | Free
Grow your subscribers and sales with OptinMonster – Free
WordPress translation plugin that allows you to launch a multilingual website in minutes Weglot–Free
Do your email marketing service with HubSpot – Free
sell products or services on your website with Woocommerce plugin – Free . It converts your WordPress blog into a fully functional online store.
These plugins take care of most of the hard work involved in running and maintaining your site.
6.Making Money From Your Blog
Are you wondering how to monetize a blog? While blogging is an enjoyable hobby for many, it's also a great way to make money online.
You'll also be happy to know that monetizing a blog is easier today than it ever has been before.
So, maybe you've already started a blog and have been writing awesome posts for a while now… but you're still making zero dollars?
It's time to change that! But how do you do it?
In this chapter, we'll be explaining different methods to make money blogging.
1.Start Affiliate Marketing
2. Advertise on Your Blog with Google Adsense.
3. Start Freelancing to Earn Money
4. Offer Online Courses
Get Paid for Writing Reviews
Start Affiliate Marketing
If you're looking for ways to monetize a blog, you should look into affiliate marketing.
Affiliate marketing is one of the most popular monetization strategies among bloggers. With affiliate marketing, when you promote other businesses' products with your affiliate link. You will earn a commission, Every time someone buys a product through one of your affiliate links
So, say your commission is $10 for every sale. If 100 people buy the product by clicking your affiliate link, you make $1.000
The easiest way to find products to promote on your blog is by joining affiliate programs like:
There are plenty of affiliate marketing plugins and tools for WordPress that can help you make more money when promoting affiliate products. We recommend using PrettyLinks or ThirstyAffiliates as a must have.
To learn more about how to monetize a blog with affiliate marketing, check out our ultimate guide on how to start affiliate marketing.
Advertise on Your Blog with Google Adsense
If you make a blog with monetization in mind, then Google AdSense is the best way to do this.
Adsense is an ad network run by Google that displays advertisements on websites. When a visitor clicks on an ad on your site, you make money.
When you make money on your blog by showing ads on your website with google addence you will have 2 ways:
way 1: Based on impressions, which depends on page views.You will earn a predetermined amount based on the number of pageviews you already have
way 2 : based on clicks. This is regardless of page views allowing you to earn a set amount each time a visitor clicks on an ad featured on your site.
We recommend that you see how to add Google AdSense to your WordPress blog for the most detailed instructions
Start Freelancing to Earn Money
First, you need to define your goals for freelance work. As a blogger, it's time to leverage your skills by providing freelance writing services for businesses.
You can also find freelance jobs in social media management, content marketing, accounting, web design, and more.
Are you proficient in graphic design? Freelance for startups that need logo or infographic design.
we recommend using your website to promote your freelance services. First, create a contact form on your site so that potential clients can reach you. You can easily create one with WPForms.
Offer Online Courses
If you have enough knowledge in a certain field, you can transfer your existing knowledge and skills to your readers through courses.
Thereby, readers will pay to buy your courses For example, if you blog about your website, you could sell website video tutorials to your readers.
You can create a course in a downloadable PDF bundle or you can use a learning management system (LMS) plugin
Get Paid for Writing Reviews
Many bloggers make money by writing reviews from their blog.
No one buys a product for the first time without checking how others have rated the product This is why Reviews are valuable for most brands and companies.
Companies are willing to pay just to get a review of their product or service. There should be room for honesty and truthfulness in your reviews. Don't write based on what your readers want to hear. Be honest and provide constructive criticism if you didn't love a product or service.
Here, we have put down some of the legit platforms that pay for reviews
Choose Swagbucks as a site that can pay you for writing a review. You'll earn here by answering online surveys about specific brands or by signing up to test products.